How to Create WordPress Image Sitemap and Submit It
Images in a blog post not only helps in making your blog post look more beautiful but it has more advantage like it helps in getting more image search engine traffic. Though, image SEO is one important aspect of it and simple suggestion is to, start working on Alt tag of your image. Before uploading any image to your blog, give it a meaningful name and use your post Keyword as Alt tag. This is one basic SEO tip for your images in blog post.
Along with it, one important aspect of letting search engine like Google to crawl and index all your images, you should generate an image Sitemap of your WordPress Blog. Like we use Google XMl sitemap or WordPress SEO by yoast plugin to generate posts sitemap, it's always a good idea to generate sitemap for your blog images. In this tutorial, I will be talking about one such simple plugin which will help you to generate sitemap of images on your Blog.
Update: Yoast SEO now supports image sitemap too. If you are using SEO by Yoast plugin, you don't need to use any other image sitemap plugin.
Udinra All image Sitemap WordPress plugin:
Earlier, I used to be a use Image sitemap plugin by Amit Agarwal but yesterday when I was creating a sitemap for one of my client, who have a huge WordPress blog (over 20,000 blog posts) that plugin throwed fatal memory error and I had to look for an alternate option. I stumbled upon Udinra All image sitemap plugin, which is another easy to use and implement Image sitemap plugin for WordPress, and follows the image sitemap standard.
This is very easy to implement and use plugin and in this post, I will show you how to use it and submit your image sitemap to Google search.
Download & install Udinra Image sitemap plugin from official repo here.
After activating the plugin, navigate to Settings > Udinra Image sitemap
This plugin offers few settings like :
You can update the sitemap automatically as soon as you publish a new post
Create a gZip version of sitemap
Ping Google.com, bing.com and ask.com for Image sitemap
Select all the boxes and click on Create site map. It will take few seconds and will generate image site map for your WordPress Blog.You can access your newly created sitemap by going to domain.com/sitemap-image.xml
Submitting WordPress Image sitemap to Google Search
Now, the next step is to submit your Sitemap to search engine. You can use Google Webmaster tool to add your Image sitemap. Login to Webmaster tool and under your site dashboard, you will see an option call Sitemap, click on it.  On the next page, you will see an option to add/test sitemap. Click on it and select Submit sitemap to add your site map. See screenshot for better understanding: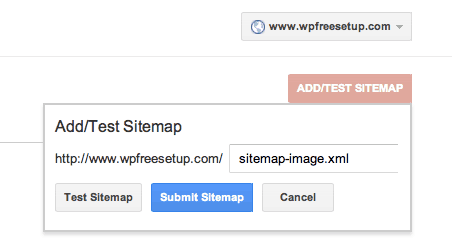 That's it and Google will crawl and index all your blog images. This step is very useful, to get a handful of image search engine traffic. Do let me know how many of you also create image sitemap of your Blog?
Don't forget to subscribe to my Email newsletter for more updates. If you find this post useful, don't forget to share it on Facebook and Twitter.